Each Welcome Package is designed to provide the New Member with the information they need to achieve their goals at each stage in their Isagenix Journey.

Below are links to each Welcome Package as a web page, along with a description of their contents. You can simply email the links to your New Members to get them started and help keep them on track for Success!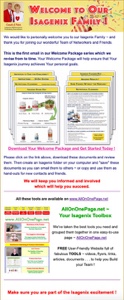 Welcome Package 1
www.AllinOneBusiness.net/Welcome-1.html
Nutritional Cleansing Guide
Help your New Member get started on their new healthy Isagenix Lifestyle.
The Isagenix Nutritional Cleansing System
Short Product Info & How it Works
Nutritional Cleansing and Weight Loss
Inspiring Results and Motivation
IsaBody Challenge
30-Day Program Guide

Welcome Package 2
www.AllinOneBusiness.net/Welcome-2.html
Weekly International Team Call
The International Team Call is one of our favorite tools for both Prospects and New Members
This Package highlights the many benefits of the Team Call and can also be used as an Invitation for your Prospects.
Inspiration ~ Real-Life Stories and Testimonials
Information ~ Product Overview
Motivation ~ Team Spirit

Welcome Package 3
www.AllinOneBusiness.net/Welcome-3.html
Getting Your Business Started
When your New Member is ready to seize the Isagenix Business Opportunity, this Fast Start kit will get them started on the right path.
2 Easy Steps to Sharing Isagenix
What Does Isagenix Cost?
3 Great Choices ~ Isagenix Nutritional Cleansing Program Overviews
Membership and Personal Goals Form

Welcome Package 4
www.AllinOneBusiness.net/Welcome-4.html
All On One Page ~ Overview
AllOnOnePage.net is your New Member's Online Isagenix Toolbox.
Be sure to show all your New Members where they can find the Tools and how to follow our Simple System for Success.
This short overview shows how easy and important it is to use the Tools and be Duplicatable.

Welcome Package 5
www.AllinOneBusiness.net/Welcome-5.html
The Isagenix 2-Team Income Plan
The Isagenix Income Plan is the very best in the industry. For Members who want to achieve their potential and build their own Isagenix Business, this package is a road map to success.
The guide gives a simple overview of the Income Plan and helps Members set and achieve their income goals.
Welcome Package 6
www.AllinOneBusiness.net/Welcome-6.html
Peter's Story
15 years ago, Speedo Peter Oelmann was the start of our Team's success ~ our first and longest running weight loss story.
Many people have great success using Peter's Story and posters to show the long-lasting results of the Isagenix Program.
At 82 ~ following the Isagenix Daily Maintenance Plan ~ Peter is still Lean, Clean and Sharp.